Introducing
Gill™ Mask PRO

A Reusable Respirator designed for medical
professionals and users to protect themselves
for longer period of time.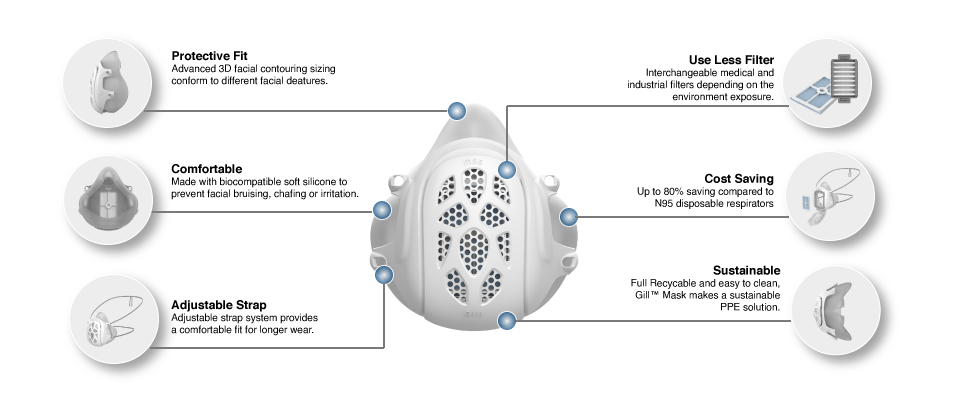 Gill™ Mask/ Gill™ Mask Pro Certification
Gill™ products are designed and manufactured by Gill Lab Pte Ltd, a medical device manufacturer that holds the ISO 13485: 2016 and EN ISO 13485: 2016 quality management system certificate (MD 739211), issued by the notifying body BSI Group (2797). Gill Lab received Class I Medical Device CE Mark registration for its products - Gill™ Mask, Gill™ Mask Pro, Gill™ Filter and Gill™ Filter Pro. The CE Mark registration confirms that Gill™ Mask, Gill™ Mask Pro, Gill™ Filter and Gill™ Filter Pro meet all the provisions of the EU Medical Devices Directive Council 93/42/EEC, Annex V11.

Been wearing this mask since the beginning of covid. I've also been treating patients 6 days a week in extremely close contact and it's kept me and my staff safe the whole time. Very grateful to Gill for developing such a great product.
It's comfortable, secure, and filters amazing. So easy to use, and I trust it completely. I wear it literally 9-10 hours a day. We ordered almost 10K dollar of N-95 masks at the peak of the pandemic. None of which came because there was no supply. We still haven't received it. This mask has not only allowed us to keep working but also saved us a ton of money from having to use disposable masks. Highly recommend!!
Chad Kawashima, USA
Added airflow if greatly appreciated
I was fortunate enough to beta-test this new version of the Gill™ Mask, Gill™ Mask PRO, and I can attest to the ground-breaking breathability factor for this new design. I have no reservations wearing the Pro version for any of my longer surgical procedures and do not tire from the lack of respiration through the improved flow filter. Now all my staff and patients can clearly hear me talk and at my normal volume as well. And to add for a seasonal allergy sufferer like myself, this added airflow if greatly appreciated.
Dr. Viet Nguyen,
Owner and Clinical Administrator of The Airport Dental Centre in Ontario, Canada.
Safe and easy
Loved the Gill pro. It is easy on the breath while keeping you safe. Would recommend if you need to be wearing a mask for long period, as you could almost forget that you are wearing a mask while breathing through the Gill Pro.
Finally I must say that they have a great support team that deliver 1st class customer service.
Daniel, Singapore
GILL MASK PRO
Been a fan of this awesome product since the launch of the 1st generation mask. Both my loved ones and I have been protected since and with the introduction of the PRO, there was hardly any hesitation to jump on the wagon as well. Have also recommended many of my friends and they too, have been very satisfied with this product.
I have to (and must) say this ... you have a great team and I MUST SAY AGAIN, your customer service support have put many 6 stars establishments / big brand names to shame.. they have much to learn from you... you have probably the BEST CS team I have encountered thus far....and I meant it (my friends concurred too) keep it up!!
Christopher, Singapore
Subscribe to our newsletter
Receive our latest weekly releases, offers, guides and more.