Is there an alternative to N95 respirator?
We are often asked how Gill™ Mask is different from N95 respirators. What was once a common industrial Personal Protective Equipment (PPE), N95 respirators became the most sought-after masks during the COVID-19 pandemic. Though both are designed as respirators to provide tight-seal protection with high airborne filtration performance, Gill™ Mask and N95 respirators differ in their comfort levels and their cost for long-term use. 
What is a N95 

respirato

r anyway?
It is important to first understand what "N95" means. N95 is a term referring to the N95 filter class, which removes at least 95% of airborne particles using a "most-penetrating sized particle (0.1 - 0.3 micron)" laboratory testing method governed by the U.S. National Institute of Occupational Safety and Health (NIOSH). Particles of these sizes are the hardest to capture and N95 respirator is capable to capture at least 95% of these particles. These airborne particles include haze, smog, pollution, bacteria and certain viruses. Studies have shown that coronavirus particles are around 0.125 microns in diameter (1/300th of a hair strand, which is about 75 micron).  
In Europe, a FFP2 respirator has the similar performance (particle filtration efficiency (PFE) of at least 94%) of an N95 in Europe and is governed by the European Union regulations. Most of us must have heard about KN95 masks by now. KN95 mask is certified by the Chinese authorities, and it has the same filtration performance (particle filtration efficiency (PFE) > 95%) and met similar testing requirements of an N95. It is also important to note that a certified N95 mask does not mean it is made in the USA. In fact, most of the N95 masks are made outside the USA, such as in China. 
Gill™ offers different types of filters. Gill™ FP95 filter has the same particle filtration efficiency (PFE over 95%) as an N95 respirator which are made from the certified KN95 material. And thus, Gill™ FP95 Filter when used with Gill™ Mask, offers the same protection features as an N95 through its capability to filter airborne contaminants.
Proper fit is key to better protection 
Gill™ Mask and N95 Respirators are both respirators but they are not the same. A face mask (eg, surgical mask), on the other hand, is a loose-fitting mask that does not seal the user's face completely. A respirator offers tight seal around the user's face for superior protection against external contaminants. When a respirator is properly fitted, it provides user better protection than a face mask as it prevents external contaminants to come into contact with a user's mouth and nose.  
A N95 respirator is a filtering facepiece respirator (FFR) where the entire facepiece is composed of the filter material itself. It is a disposable respirator and is not designed for repeated use. 
Gill™ Mask is an elastomeric reusable respirator with replaceable cartridge-filters. The elastomeric material that makes up the facepiece is made of a certified biocompatible silicone material.
Front and side views comparison between 3M 8210 and Gill™ Mask
Shape and Materials Matter
According to the National Pressure Injury Advisory Panel (NPIAP) N95 respirator masks have a particularly high risk for injury due the required tight fit around the face. Healthcare front liners have to don the tight-fitting N95 respirator for long shift hours, day after day. It is no surprise that many of these healthcare staff sustain PPE related injuries since N95 disposable respirators were designed for industrial uses where users do not typically have to wear the respirators for an extended period of time.
Source: CBS News
Gill™ Mask was created with front liners in mind where protection and comfort are top priorities. Taking experience from snorkel mask design, Gill™ team designed the facepiece using advanced 3D technologies to ensure contouring fit for different facial features. The soft biocompatible silicone material is friendly to the skin and prevents skin bruising, chaffing and irritation. On top of that, the adjustable strap system reduces pressure from ears and provides better fit.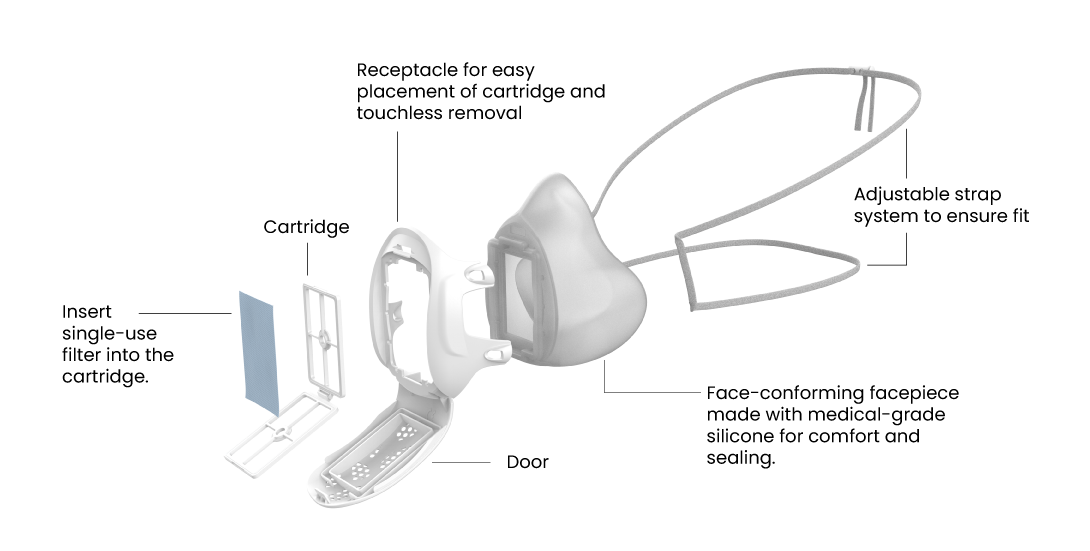 Exploded view of Gill™ Mask
Fit Testing is Required
Both N95 respirator and Gill™ Mask require initial proper fit testing and daily operator fit checks to ensure proper protection.
Gill™ Mask has been successfully fit tested with numerous subjects using 3M's Qualitative Fit Test Kit with a Bitter (Bitrex®) Taste and 3M™ Fit Test Solution FT-32 administered by certified fit testers (link). Fit testing is an essential first step to pairing a respirator to one's facial form to achieve a tight seal with the user's face and minimize leakage. It verifies the mask's compatibility with the test subject throughout a full range of motion. The test itself provides a pass or fail result based on the wearer's ability to detect a test agent thus providing a subjective measure of the quality of the seal of the facepiece to the wearers face.
Cost is a Major Concern
Months into the pandemic, the world is still battling with PPE shortages, counterfeit products and inflated pricing. N95 respirators are advised to be reserved for healthcare professionals but the reality paints a very different picture. Larger organizations and government agencies might have means to procure and stockpile N95 respirators, but that left many healthcare professionals and vulnerable frontline workers unable to procure proper PPEs to protect themselves while they protect others.
Gill™ Mask, when compared with N95 respirator, is a cost-effective solution. On an annual usage basis, an organization can save up to US$1,000 per user if they chose Gill™ Mask for their staff. By having a more economical choice of disposable filters, high risk front liners do not have to re-use their N95s after repeatedly exposed to high-risk situations.  
 Usage
N95 Respirator
Gill™ Mask + FP95 Filters
7 days (1 week)

US$3* x 7 = US$21

US$10* + (US$0.50 x 7) = US$ 13.5

Payback in a week

30 days (1 month)
US$3* x 30 = US$90

US$10* + (US$0.50 x 30) = US$ 25.00

365 days (1 year)

US$3* x 365 = US$1,095

US$10* + (US$0.50 x 365) = US$ 192.50
*Average bulk market price
Annual cost comparison of respirator consumption per user
Sustainability is No Longer a Dirty Word
The U.N. estimates that around 75% of the used masks and other pandemic-related plastic waste will end up in landfills or floating on the seas. Proper handling and safe disposal of disposal PPEs pose tremendous challenges to organizations which are already strained with lack of resources to fight the pandemic.
Anthony Wallace/Agence France-Presse — Getty Images
The facepiece and body of Gill™ Mask are 100% recyclable. Though Gill™ Filter still requires use of the same non-woven polypropylene materials as N95, the quantity consumed is about 1/10 of the N95. Gill™ Mask also allows users to adapt other filters such as surgical mask to fit into the housing of the respirator. This could extend the usage of face mask by at least 6 times.
Gill™ FP95 filter consumed lesser quantity as compared to N95 respirator and surgical mask 
Comparison between N95 (3M 8210) and Gill™ Mask 
 

3M 8210 N95

Gill

™

Mask + Gill

™

Filter

Intended Purpose

N95 is a disposable particulate respirator that is designed to help provide reliable respiratory protection of at least 95 % filtration efficiency against certain non-oil based particles.

Gill™ Mask is an elastomeric reusable particulate respirator that helps protect general public and healthcare professionals from transfer of airborne particulates or microorganisms when use with Gill™ Filter.

Respirator type

Filtering Facepiece Respirator

Elastomeric Reusable Respirator

Aerosol Type

Non-oil

Non-oil

Gas & Vapor Protection Type

Particulate

Particulate

Strap

Thermoplastic elastomer

Spandex, Nylon (washable)

Adjustable strap

No

Yes

Buckle

No

Acrylonitrile Butadiene Styrene

Shell/Facepiece Material

Polyester

Biocompatible silicone  (EN10993-11)

Door, Cartridge

N/A

Polypropylene

Natural Rubber Latex 

No

No

Cartridge or Filter Included

Yes

Yes

Sizes

Small

Large, Regular, Small

Exhalation Valve

No

No

Flame Resistance

No

Yes (GB2626:2006)

Sealing

Tight seal

Tight seal (Better or at least same as N95)

Filtration Efficiency (PFE)

>95% (same)

>95% (same)

Inhalation Resistance

<343 Pa

< 343 Pa

Exhalation Resistance

<245 Pa

<245Pa

Filter Material

Non-woven melt blown polypropylene (same)

Non-woven melt blown polypropylene (same)

Filter Material Consumption

Full Facepiece (high)

1/10 of 3M 1860 (low)

Filter Choices

Fixed

Flexible to adapt to different filters including non Gill filters

Surgical Mask

No

Yes with Gill™ FS2 Filter

Facepiece Shape

Rigid cup shape

Contouring biocompatible soft silicone

Comfort Level

Low comfort

High comfort

For Extended Use

No (Could result in facial injuries)

Yes

Repeated Use

No

Yes (with replaceable filters)

Cleaning Methods

Not recommended unless in extreme contingency situation

Autoclave sterilization, UV sterilization, Boiling water, Alcohol Wipes

Recyclable

Not recyclable

Fully recyclable (Facepiece and housing)

Regulatory Clearance

NIOSH N95

Singapore Health Sciences Authority (HSA); GB2626:2006

Acceptable Fit Test Protocols (Qualitative)

Saccharin, Bitrex

Saccharin, Bitrex

Acceptable Fit Test Protocols (Quantitative)

Yes

Yes

Cost of Annual Usage

>US$1,000/ user

<US$120/ user

Customization

No

Yes (Colors and Logos)
About Gill™ Mask 
Gill™ Mask is the first product developed under Gill™ Lab, founded in Singapore by partners Jean-Luc Fringeli, Veronica Chew, Cheong Siah Chong, Lim Eng Seng and Ken S K Chuang.  During the COVID-19 surgical mask shortage primarily affecting Asian countries in early 2020, medical suppliers were rushing to find or produce more surgical masks.  The Gill™ team decided to tackle the problem from a different angle to reduce surgical mask consumption and offer a more protective seal.  Inspired by snorkeling masks and the ability to breathe under water, the team used their expertise in designing medical devices and user experience to develop a safe, comfortable and sustainable respirator suitable for both professionals and the public. 
---
6 comments