Gill™ Mask reusable respirator is intended to protect healthcare professionals and patients, as well as other wearers, by reducing the spread of airborne contaminants when used with Gill™ Filters.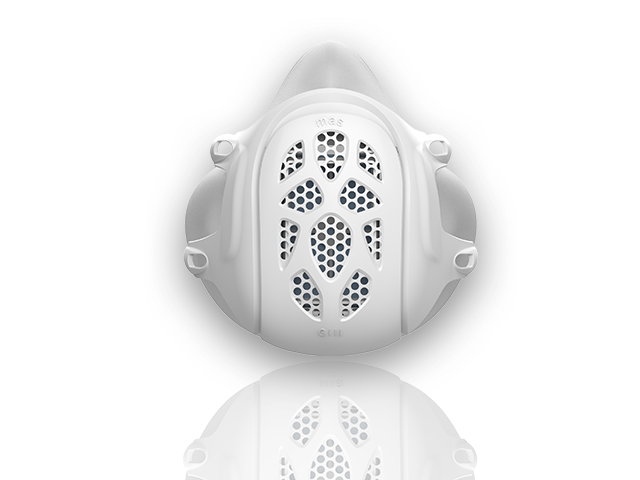 Gill™ products are designed and manufactured by Gill Lab Pte Ltd, a medical device manufacturer that holds the ISO 13485: 2016 and EN ISO 13485: 2016 quality management system certificate (MD 739211), issued by the notifying body BSI Group (2797). Gill Lab received Class I Medical Device CE Mark registration for its products - Gill™ Mask, Gill™ Mask Pro, Gill™ Filter and Gill™ Filter Pro. The CE Mark registration confirms that Gill™ Mask, Gill™ Mask Pro, Gill™ Filter and Gill™ Filter Pro meet all the provisions of the EU Medical Devices Directive Council 93/42/EEC, Annex V11.

Interchange filter of your choice
Gill™ Mask allows you to choose the filter that best suits your protective needs. It helps to reduce waste and conserve mask supplies by using only the part that actually provides protection.
Cost savings for long-term use
Compared to disposable respirators, Gill™ Mask is a cost-effective solution in the long-run as you will only need to change the filter instead of the whole mask after every use.
Sustainable
Gill™ Mask uses lesser filter material as compared to disposable respirator, making it a cost-efficient and sustainable solution.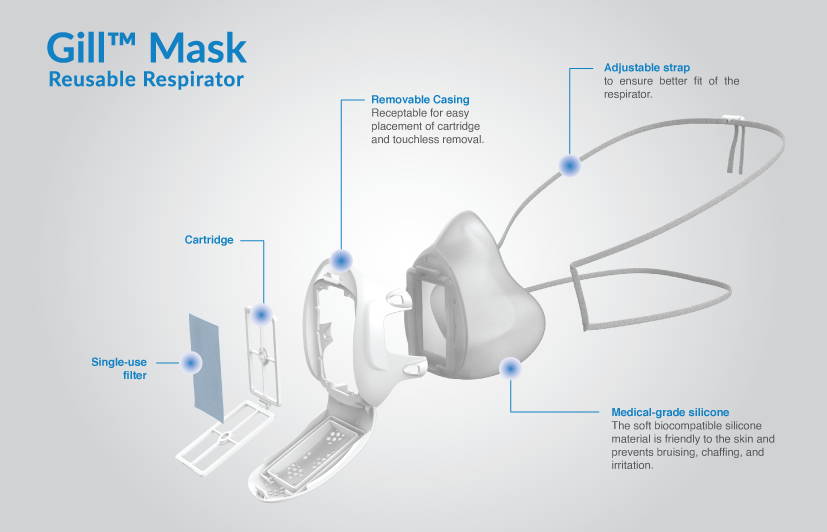 Soft biocompatible silicone facepiece is friendly to the skin and it prevents skin bruising, chaffing and irritation.
Silicone facepiece contours to different facial features to ensure an air-tight seal.
The smart cartridge design allows you to change the types of filter required, making it a cost-efficient and sustainable solution.
Gill™ Filter is a single-use, non-sterile, disposable filter designed to be used with Gill™ Mask Reusable Respirator.
Gill™ Filter is available in,
Gill Filter FP95 (equivalent to N95, particle filtration efficiency (PFE) > 95%.

Gill Filter FS2 (equivalent to surgical mask, bateria filtration efficiency (BFE) > 98%)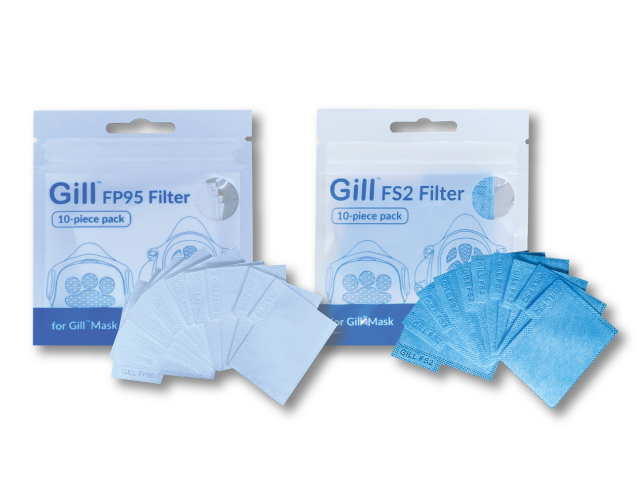 At Gill Lab, we want to support the front liners who has been supporting the community to keep us safe.
If you're a front line worker, or if you have any family or friends who is a front liner, submit their details to us and we will offer them a 30% discount!